The impact of the Business Dynamics Research Consortium can be immediately seen in several websites and a variety of practical applications through innovative data filters and visualizations enabling our partners to incorporate the YE Time Series into their own custom solutions.
Our services and affiliate relationships target a full range of organizations and individuals including;
university-based scholars
private foundations
research institutions
nongovernmental organizations
policy makers
economic developers
Want to learn more about how our partners utilize the YE Times Series database?

Data Axle
Data Axle (formerly known as Infogroup) is the original compiler of both consumer and business establishment data integrating new and innovative data sources for higher quality data & complete U.S. coverage from 1997. Each year of new data is available in January of the following year which presents only a 3 to 4 month lag in having the latest year data available!
Learn More
Pioneer Institute – MassEconomix
MassEconomix is an online data tool that utilizes YE Time Series to provide high quality and timely data to effect informed, impactful decisions at the Massachusetts state and local level. This site provides analysis of local, regional, and statewide trends in employment, business growth, and specific industries. On the website, users can search for data by Geography or Industry, compare YE Time Series data to the database accessible through the Commonwealth of Massachusetts Executive Office of Labor and Workforce Development, or view a snapshot of job and business growth in their community. Pioneer Institute also publishes reports on business dynamics for individual cities, industry sectors, and other relevant topics.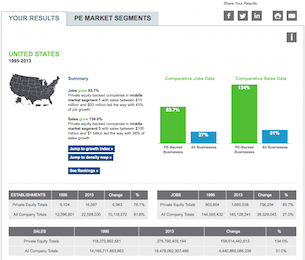 GrowthEconomy.org
What is GrowthEconomy.org?
Growth Economy is a dynamic research database that matches data from two independent sources to track a key driver of the US economy: how private equity-backed companies compare to other U.S. businesses on jobs and sales growth. This powerful research tool is made possible through a partnership between the Association for Corporate Growth (ACG), PitchBook Data, Inc., and the University of Wisconsin System Institute for Business and Entrepreneurship's Business Dynamics Research Consortium (BDRC
GrowthEconomy.org empowers users to learn more about the impact of private equity-backed companies and their sustained growth impact on the middle market of the U.S. economy.
Visit GrowthEconomy